Hajde
Playing Bulgarian and Macedonian Folk Music on Traditional Instruments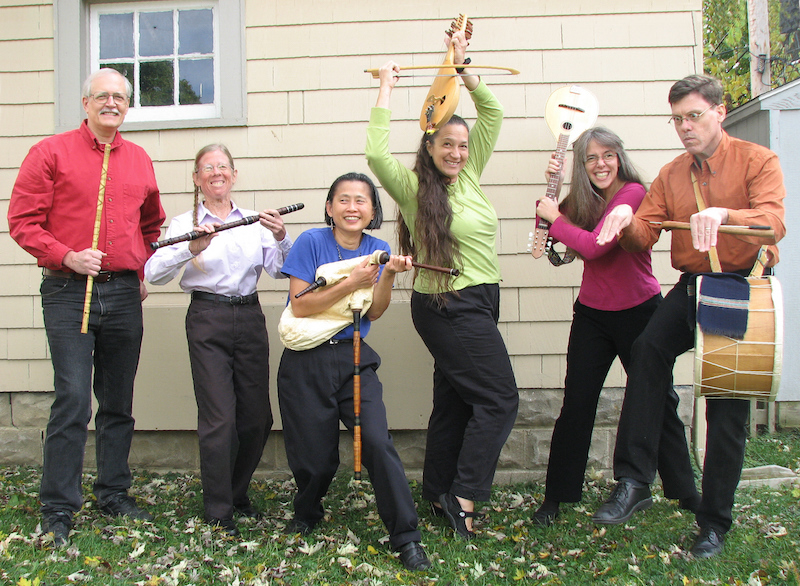 Hajde (pronounced HIGH-deh) means "Let's go!"
All the band members regularly do Balkan folk dancing, so we play music we would like to dance to ourselves. Our music features the unusual rhythms and melodies of eastern Europe, played on classic traditional instruments and in the styles from the rich cultures of Bulgaria and Macedonia.

We like to preserve the classic folk styles of our music, but traditions can change, so we sometimes add special touches or modern influences to make our own sound.

Hajde is based in central Ohio, and is available to hire for dance parties and concerts. For bookings, fees, availability, or information, contact Ann Mosconi.
Bob Snider - Plays Macedonian kaval and Bulgarian kaval. He has traveled to Bulgaria and studied with master kaval teachers Lyuben Dossev and Ljupco Milenkovski. See his kaval page here.
Leslie Scott - Plays Bulgarian kaval. She has studied with several of the best kaval players of today, both here and in Bulgaria. Leslie also plays recorder and accordion in other bands.
Loretta M. Yam - Plays Macedonian, Thracian, and Rhodope gajdas and Macedonian tambura. She has received gajda instruction from some of the gajda masters of our times, primarily at the EEFC East Coast Balkan Music and Dance camps.
Ann Mosconi - Plays Macedonian tambura and Bulgarian tambura, gadulka, and gajda. She has taken classes on gadulka with virtuosos Nikolay Kolev and Georgi Petrov, and gajda with master Vassil Bebelekov at the EEFC Music and Dance Camps (see www.eefc.org. for more information.)
Lea Anne Kangas - plays Bulgarian and Macedonian tambura. She has taken classes with Bill Cope and Adam Good at the EEFC's East Coast Music and Dance Camp.
Tom Kangas - plays Bulgarian and Macedonian tupan, dumbek, and other percussion instruments. He also plays clarinet, but not often in this band.
All band members sing on various vocal numbers.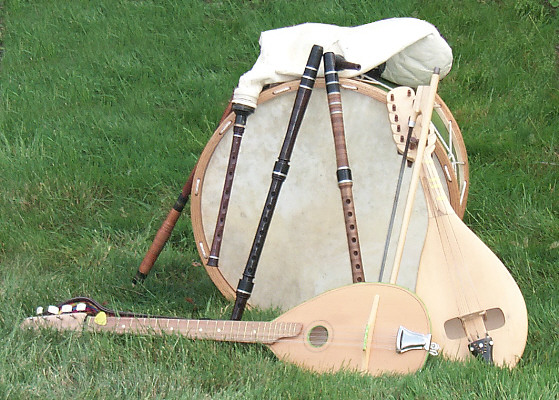 About the Instruments

Dumbek

[DOOM-bek] - An hourglass-shaped drum, frequently of metal [first photo] or ceramic [second photo], with a single skin head, played with the hands.

Gajda

[GUY-duh] - A bagpipe with a single chanter having 8 finger holes, and one drone. [First photo - Bulgarian; second photo - Macedonian] Air pressure is sustained by periodically blowing through the blowpipe into the bag, then squeezing steadily with the left arm.

Gūdulka

[guh-DOOL-kuh]- A bowed instrument similar to a rebec with many sympathetic strings in addition to 3 melody strings. It is held upright with the lower end tucked into a shoulder strap, and bowed horizontally.

Kaval

[kah-VAHL or KAH-vahl] - An end-blown flute with 8 finger holes and a 3-octave range. (See Bob's kaval page) [First photo - Bulgarian; second photo - Macedonian]

Tambura

[TOM-boo-rah or tom-boo-RAH] - A mandolin with doubled strings in 4 courses (Bulgarian - first photo) or 2 courses (Macedonian - second photo), strummed to keep rhythm, or used as a melody instrument.

Tūpan

[TUH-pahn] - A large two-headed drum, played on one side with a heavy wooden stick, and on the other side with a thin switch.
For information on bookings, E-Mail Ann Mosconi.